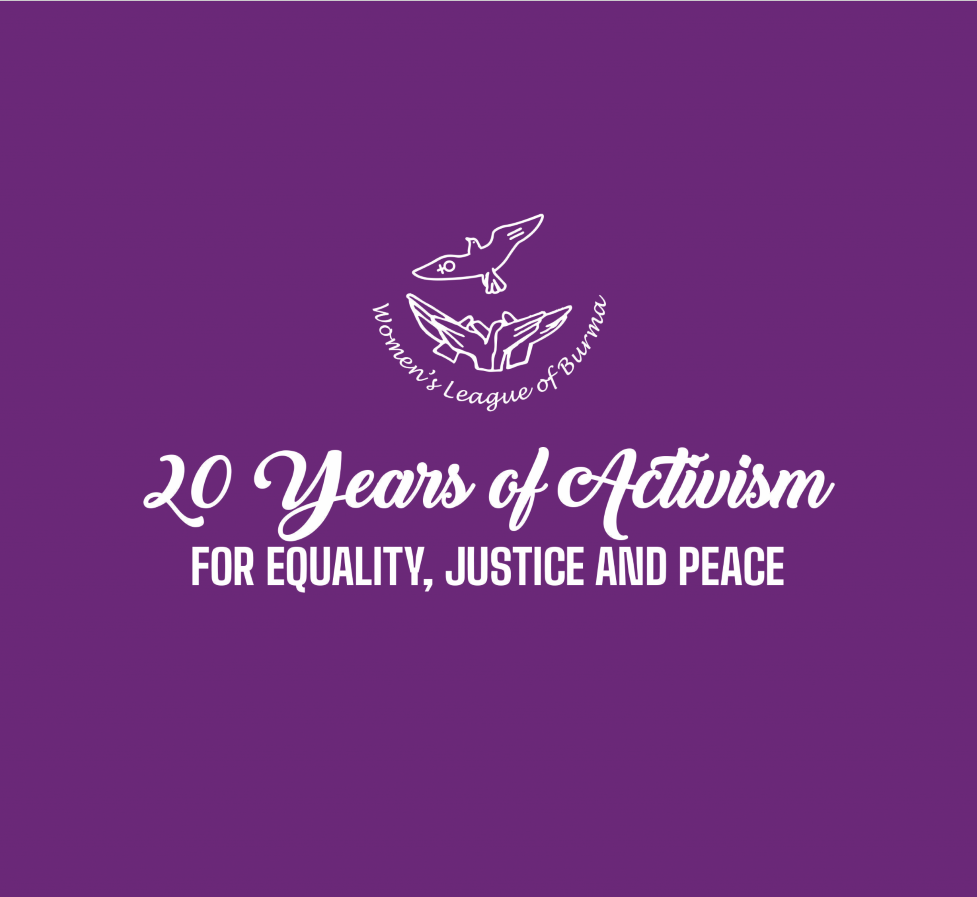 MESSAGE FROM WLB
Human rights, dignity and justice for all. Women organizations from different ethnic and political background founded the Women's League of Burma based on these principles on the Thai-Burma border. For the past twenty years, WLB and her member organizations have been bringing the voice of women and all those who are discriminated, excluded, marginalized and silenced using these principles and their universality. These values and beliefs have been a source of energy and strength for us in overcoming the many challenges we have faced over the past two decades.
Amidst the many oppositions, difficulties and challenges, we persevered to advocate for human rights and justice for all at local, national, regional and international levels. We have made impact in educating our communities and societies about gender, gender equality and gender quota in order to promote a more democratic society through an increase in meaningful participation of women at all levels of decision-making processes.
Here, we are proud to share our program updates and some reflections on our twenty years of activism for equality, justice and peace through 1) Peace and Reconciliation Program; 2) Women Against Violence Program, and 3) Women's Political Empowerment Program using capacity building and advocacy strategies.
Despite all the progress we have made to improve the livelihoods of the people from our homeland, many past injustice remain unaddressed and some have even been deteriorating in the recent years. The past human rights violations, far from being acknowledged and recognized by those who committed them, many continue to commit human rights violations due to the lack of prosecution and the widespread system of impunity. 
Therefore, the Women's League of Burma and her member organizations are committed to continue working to expose all forms of human rights violations regardless of who have committed them or regardless of whom the victims are. We also pledge to continue working to bring all those responsible for human rights violations and atrocities against our people to justice.
WLB remains firmed in the belief that for peace to prevail, justice must be served. For peace to prevail, we must adopt a federal democratic system which has human rights as a corner stone. Only when we are able to address the past injustice and realize equality for all people and self-determination for all member states of the union, fundamental human rights, freedom and dignity for all will have a chance of survival in our country. Only then, will we have a chance of achieving a peaceful and prosperous country where our diverse communities can co-exist peacefully and everyone will be able to live with dignity, sense of security and justice.
Since the beginning of our journey for equality, justice and peace, many people have supported us, continued to believe in the work we do, and have stood in solidarity with us. Without which, we would not have been able to make such progress so effectively. We look forward to your continuing support and trust in our journey for equality, justice and peace for many more decades to come. Let us all continue working together to advance the status of women towards a just and peaceful federal democratic union.
Sisters of the Women's League of Burma