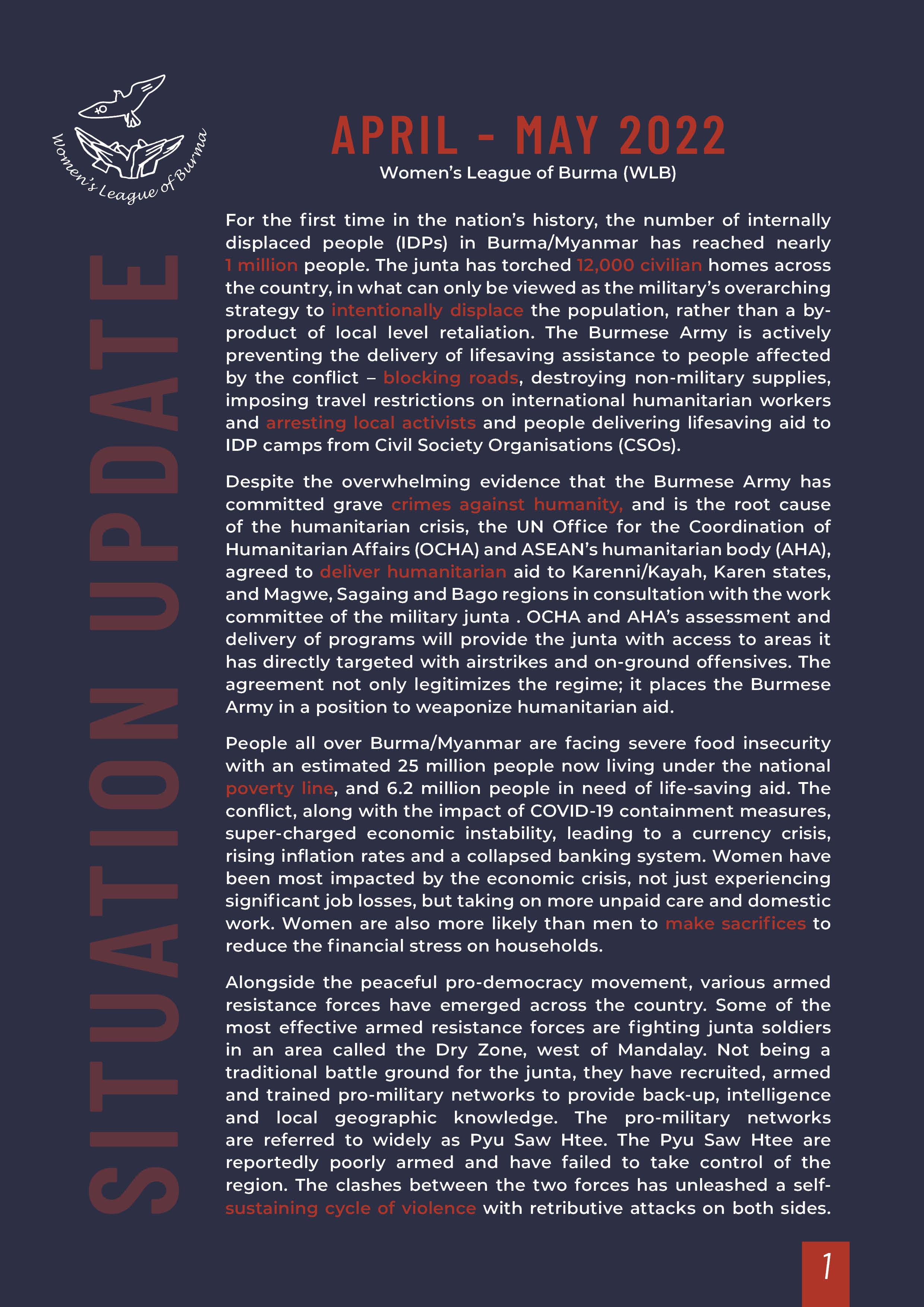 For the first time in the nation's history, the number of internally displaced people (IDPs) in Burma/Myanmar has reached nearly 1 million people. The junta has torched 12,000 civilian homes across the country, in what can only be viewed as the military's overarching strategy to intentionally displace the population, rather than a by- product of local level retaliation. The Burmese Army is actively preventing the delivery of lifesaving assistance to people affected by the conflict – blocking roads, destroying non-military supplies, imposing travel restrictions on international humanitarian workers and arresting local activists and people delivering lifesaving aid to IDP camps from Civil Society Organisations (CSOs). 
Despite the overwhelming evidence that the Burmese Army has committed grave crimes against humanity, and is the root cause of the humanitarian crisis, the UN Office for the Coordination of Humanitarian Affairs (OCHA) and ASEAN's humanitarian body (AHA), agreed to deliver humanitarian aid to Karenni/Kayah, Karen states, and Magwe, Sagaing and Bago regions in consultation with the work committee of the military junta . OCHA and AHA's assessment and delivery of programs will provide the junta with access to areas it has directly targeted with airstrikes and on-ground offensives. The agreement not only legitimizes the regime; it places the Burmese Army in a position to weaponize humanitarian aid. 
People all over Burma/Myanmar are facing severe food insecurity with an estimated 25 million people now living under the national poverty line, and 6.2 million people in need of life-saving aid. The conflict, along with the impact of COVID-19 containment measures, super-charged economic instability, leading to a currency crisis, rising inflation rates and a collapsed banking system. Women have been most impacted by the economic crisis, not just experiencing significant job losses, but taking on more unpaid care and domestic work. Women are also more likely than men to make sacrifices to reduce the financial stress on households. 
Alongside the peaceful pro-democracy movement, various armed resistance forces have emerged across the country. Some of the most effective armed resistance forces are fighting junta soldiers in an area called the Dry Zone, west of Mandalay. Not being a traditional battle ground for the junta, they have recruited, armed and trained pro-military networks to provide back-up, intelligence and local geographic knowledge. The pro-military networks are referred to widely as Pyu Saw Htee. The Pyu Saw Htee are reportedly poorly armed and have failed to take control of the region. The clashes between the two forces has unleashed a self- sustaining cycle of violence with retributive attacks on both sides.