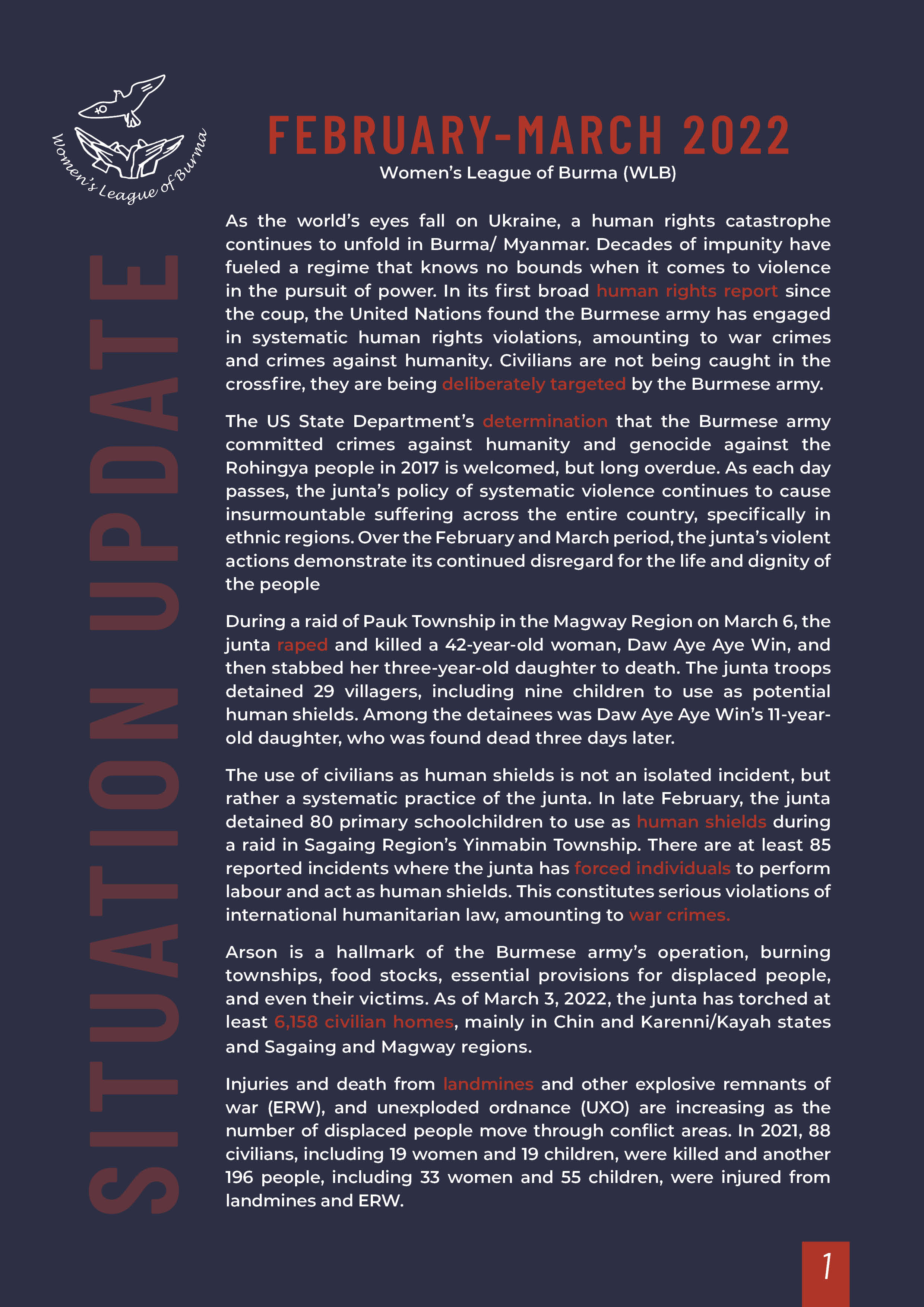 As the world's eyes fall on Ukraine, a human rights catastrophe continues to unfold in Burma/ Myanmar. Decades of impunity have fueled a regime that knows no bounds when it comes to violence in the pursuit of power. In its first broad human rights report since the coup, the United Nations found the Burmese army has engaged in systematic human rights violations, amounting to war crimes and crimes against humanity. Civilians are not being caught in the crossfire, they are being deliberately targeted by the Burmese army.
The US State Department's determination that the Burmese army committed crimes against humanity and genocide against the Rohingya people in 2017 is welcomed, but long overdue. As each day passes, the junta's policy of systematic violence continues to cause insurmountable suffering across the entire country, specifically in ethnic regions. Over the February and March period, the junta's violent actions demonstrate its continued disregard for the life and dignity of the people.
During a raid of Pauk Township in the Magway Region on March 6, the junta raped and killed a 42-year-old woman, Daw Aye Aye Win, and then stabbed her three-year-old daughter to death. The junta troops detained 29 villagers, including nine children to use as potential human shields. Among the detainees was Daw Aye Aye Win's 11-yearold daughter, who was found dead three days later.
The use of civilians as human shields is not an isolated incident, but rather a systematic practice of the junta. In late February, the junta detained 80 primary schoolchildren to use as human shields during a raid in Sagaing Region's Yinmabin Township. There are at least 85 reported incidents where the junta has forced individuals to perform labour and act as human shields. This constitutes serious violations of international humanitarian law, amounting to war crimes.
Arson is a hallmark of the Burmese army's operation, burning townships, food stocks, essential provisions for displaced people, and even their victims. As of March 3, 2022, the junta has torched at least 6,158 civilian homes, mainly in Chin and Karenni/Kayah states and Sagaing and Magway regions. Injuries and death from landmines and other explosive remnants of war (ERW), and unexploded ordnance (UXO) are increasing as the number of displaced people move through conflict areas. In 2021, 88 civilians, including 19 women and 19 children, were killed and another 196 people, including 33 women and 55 children, were injured from landmines and ERW.