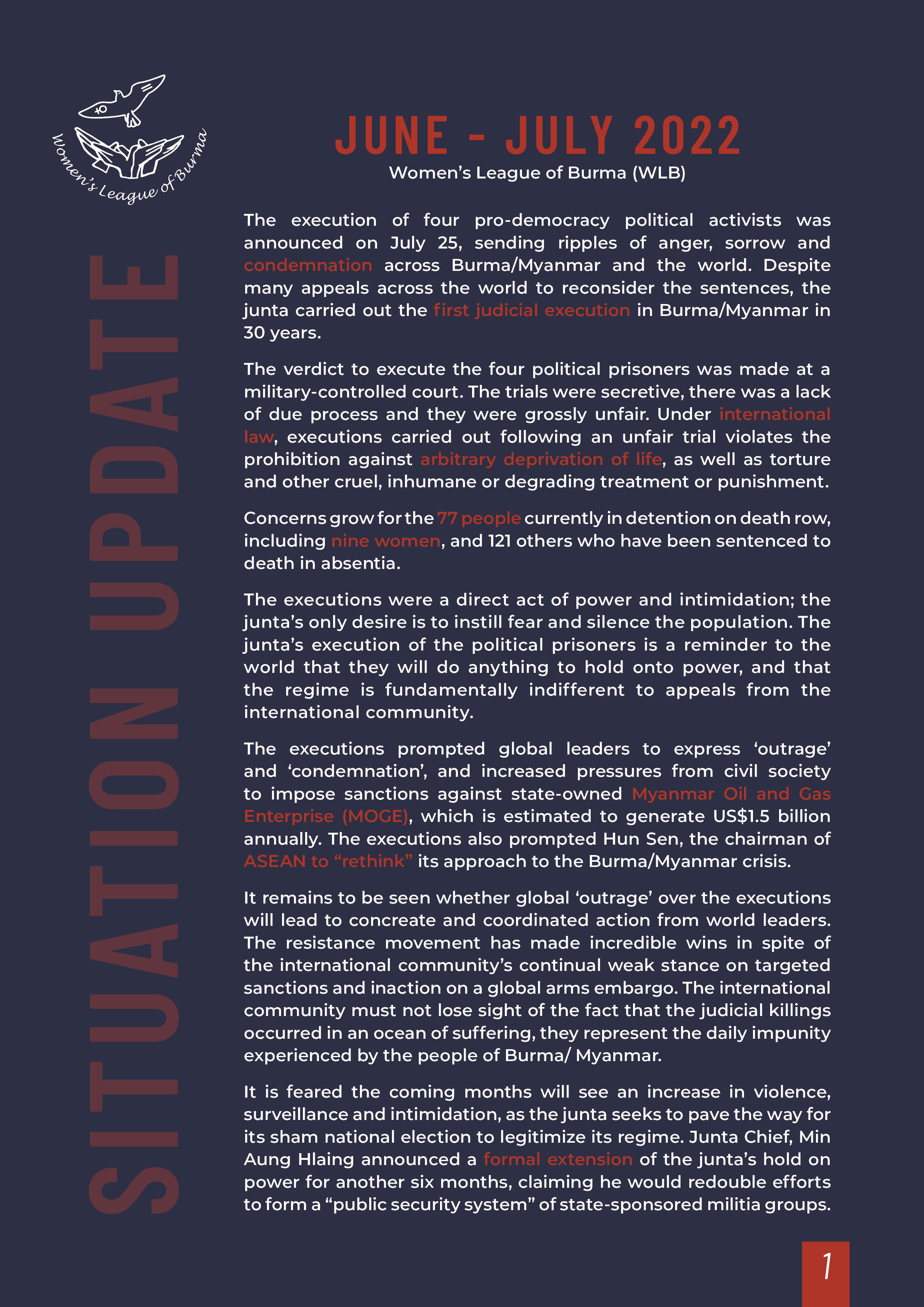 The execution of four pro-democracy political activists was announced on July 25, sending ripples of anger, sorrow and condemnation across Burma/Myanmar and the world. Despite many appeals across the world to reconsider the sentences, the junta carried out the first judicial execution in Burma/Myanmar in 30 years.
The verdict to execute the four political prisoners was made at a military-controlled court. The trials were secretive, there was a lack of due process and they were grossly unfair. Under international law, executions carried out following an unfair trial violates the prohibition against arbitrary deprivation of life, as well as torture and other cruel, inhumane or degrading treatment or punishment.  
Concerns grow for the 77 people currently in detention on death row, including nine women, and 121 others who have been sentenced to death in absentia.   
The executions were a direct act of power and intimidation; the junta's only desire is to instill fear and silence the population. The junta's execution of the political prisoners is a reminder to the world that they will do anything to hold onto power, and that the regime is fundamentally indifferent to appeals from the international community. 
The executions prompted global leaders to express 'outrage' and 'condemnation', and increased pressures from civil society to impose sanctions against state-owned Myanmar Oil and Gas Enterprise (MOGE), which is estimated to generate US$1.5 billion annually. The executions also prompted Hun Sen, the chairman of ASEAN to "rethink" its approach to the Burma/Myanmar crisis.
It remains to be seen whether global 'outrage' over the executions will lead to concreate and coordinated action from world leaders. The resistance movement has made incredible wins in spite of the international community's continual weak stance on targeted sanctions and inaction on a global arms embargo. The international community must not lose sight of the fact that the judicial killings occurred in an ocean of suffering, they represent the daily impunity experienced by the people of Burma/ Myanmar. 
It is feared the coming months will see an increase in violence, surveillance and intimidation, as the junta seeks to pave the way for its sham national election to legitimize its regime. Junta Chief, Min Aung Hlaing announced a formal extension of the junta's hold on power for another six months, claiming he would redouble efforts to form a "public security system" of state-sponsored militia groups. Leaked documents indicate the junta has been arming extremely violent pro-military militia groups, known as Pyu Saw Htee in an attempt to instill fear through violence. An increase in Pyu Saw Htee presence has been felt in Sagaing and Magway regions, and other parts of the country that had previously been free of conflict prior to the coup.