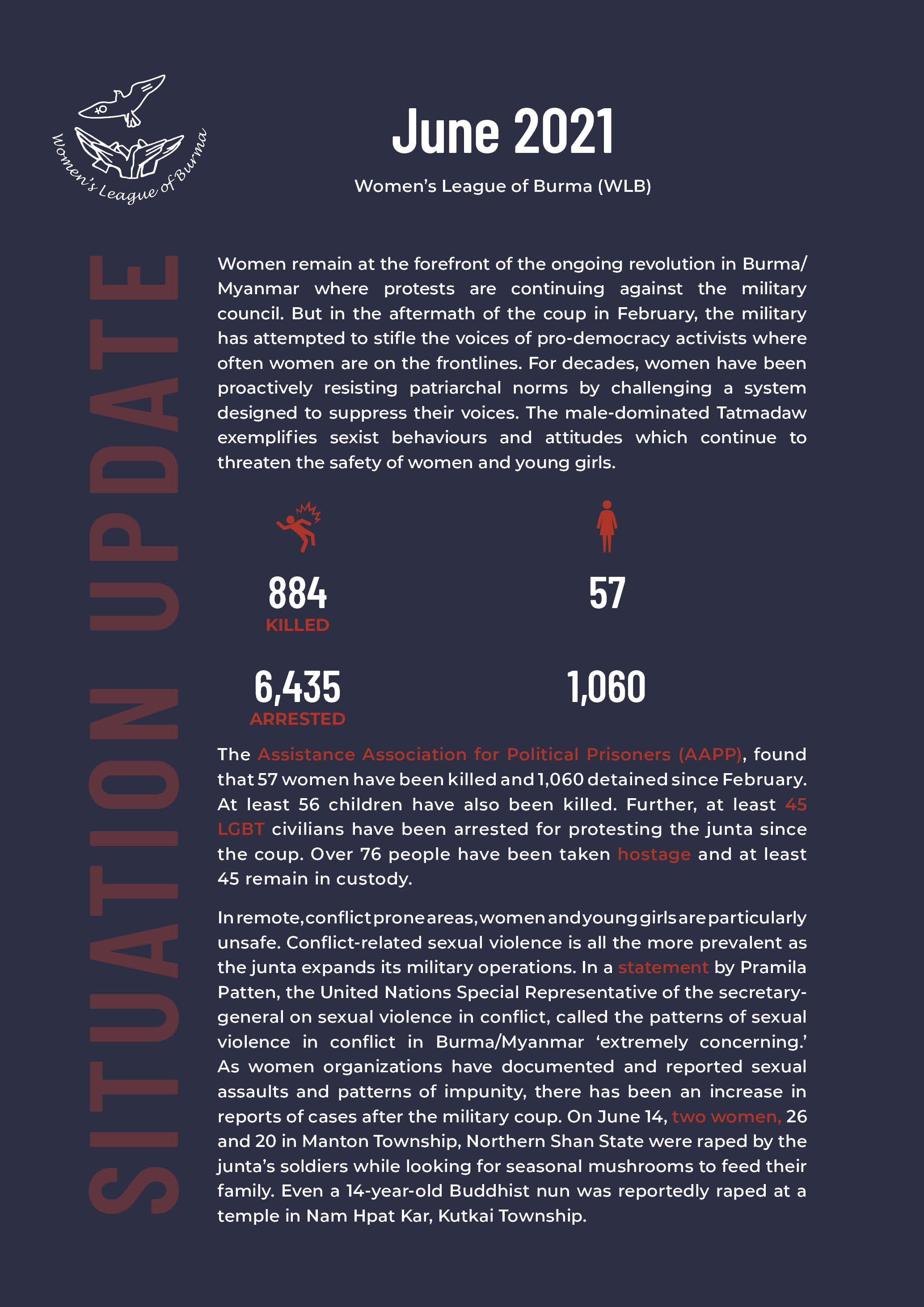 Women remain at the forefront of the ongoing revolution in Burma/Myanmar where protests are continuing against the military council. But in the aftermath of the coup in February, the military has attempted to stifle the voices of pro-democracy activists where often women are on the frontlines. For decades, women have been proactively resisting patriarchal norms by challenging a system designed to suppress their voices. The male-dominated Tatmadaw exemplifies sexist behaviours and attitudes which continue to threaten the safety of women and young girls. 
The Assistance Association for Political Prisoners (AAPP), found that 57 women have been killed and 1,060 detained since February. At least 56 children have also been killed. Further, at least 45 LGBT civilians have been arrested for protesting the junta since the coup. Over 76 people have been taken hostage and at least 45 remain in custody. 
In remote, conflict prone areas, women and young girls are particularly unsafe. Conflict-related sexual violence is all the more prevalent as the junta expands its military operations. In a statement by Pramila Patten, the United Nations Special Representative of the secretary-general on sexual violence in conflict, called the patterns of sexual violence in conflict in Burma/Myanmar 'extremely concerning.' As women organizations have documented and reported sexual assaults and patterns of impunity, there has been an increase in reports of cases after the military coup. On June 14, two women, 26 and 20 in Manton Township, Northern Shan State were raped by the junta's soldiers while looking for seasonal mushrooms to feed their family. Even a 14-year-old Buddhist nun was reportedly raped at a temple in Nam Hpat Kar, Kutkai Township. 
The ongoing arrests and unlawful detention of women and young girls now include children as young as five years old. Family members are being used by the military as scapegoats. Su Htet Wine, 5, was detained with her mother, and 17-year-old sister on June 13. She spent her fifth birthday behind bars. They were taken hostage when soldiers came to arrest her father, Soe Htay, a local protest leader in Mandalay. Su Htet Wine was released from detention on June 30 in an amnesty by the junta, after being denied proper meals. Her mother and older sister still remain in prison. Su Htet Wine is one of 85 civilians taken 'hostage' by the regime. The detention of children shows the mercilessness of the regime and their reluctance to adhere to international norms.
Even places of education and religious worship have not been spared by the destructive forces of the junta. Schools in ethnic areas have been bombed and destroyed by artillery fire and airstrikes. Churches have been looted and destroyed by highly sophisticated weapons by the power-hungry junta. At least 103 schools and other education facilities have been attacked since May. With places of refuge under attack, communities have been forced to flee to the jungle where harsh conditions threaten their overall well-being. Children, expectant mothers and the elderly must often withstand the country's rural elements. Trekking through mountainous conditions in the rain has created a crisis of its own. In conflict ravaged Chin State, a pregnant woman, two children and three seniors died due to insufficient access to medical care while they were hiding in the jungle. Deaths like these are completely preventable.